Hops can calm your nerves, relax your mind, and help you sleep better.
Given that beer is so deep a part of our culture, it is not unusual for people to know something about the hops plant (humulus lupulus), a creeping vine that grows in temperate climates, and is used in the beer brewing process. However what you may not know is that hops is also a sedative, and has been used for centuries to calm people and to help with sleeplessness. Hops is a member of the family Cannabaceae, along with cannabis sativa, indica, and ruderalis, but does not have the level of cannabinoids as marijuana. It is, however, a very interesting hypnotic plant with some highly beneficial effects.
Unlike many herbs that enjoyed 1000s of years of medicinal use in traditional medicine (like Valerian), hops was until relatively recently used entirely as the bittering agent in beer and as a preservative with antiseptic qualities (from around 1300). It has been used as a sedative and relaxant by native Americans tribes for many centuries, but it wasn't until around the 1700s that hops began widespread use by Western apothecaries and doctors.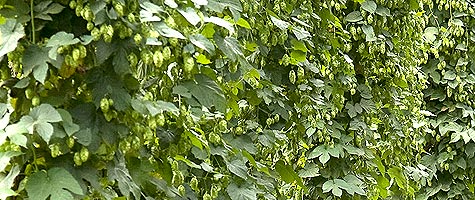 Female hops flowers were found to have calming and sedative properties, likely noticed first when the pickers of hops crops would commonly feel drowsy. Probably the most well-known of applications was for King George III who supposedly slept on pillows stuffed with hops to relax him and help him sleep.
A prominent physician, Kahnt, helped popularize the use of hops in his book on medica naturae, and phytotherapy. He stated that teas or extracts of female hops flowers were effective for sleeping problems associated with nervous disturbances. Widespread published use appears around the mid 1800s as use of the female flowers to treat sleeplessness became common.
In 1813, the French pharmacist Planche isolated Lupulin, the fine yellow resinous substance from the female flowers, and research has continued ever since. More recently, in 1983, a volatile alcohol, 2-methyl-3-buten-2-ol (dimethylvinyl carbinol), was isolated from hops which researchers determined was at least partly responsible for the plant's sedative properties. Interestingly, the amount of this substance increases after drying and during storage, reaching maximum levels within two years, which suggests that hops-based supplements can be highly useful for aiding sleeplessness.
Hops has the power to put you to sleep.
Studies on mice found hops to have sedative, hypnotic, hypothermic, antinociceptive, and anticonvulsant properties (Hänsel R, Wohlfart R, and Schmidt H. The sedative-hypnotic principle of hops. Planta Med 1982). In a clinical trial, EEG testing detected mild relaxing and calming effects on the central nervous system from a high dosage of a valerian and hops combination product (Vonderheid-Guth, B., Todorova, A., Brattstrom, A., and Dimpfel, W. Pharmacodynamic effects of valerian and hops extract combination (Ze 91019) on the quantitative-topographical EEG in healthy volunteers. Eur J Med Res, 2000.) The valerian/hop extract acts via a central adenosine mechanism and showed significant efficacy for use as a sleep aid.
Recent experiments on sedative activity indicated mediating action on the melatonin receptor, which is responsible for maintaining the diurnal circadian rhythm in vertebrates. (Abourashed E, Koetter U, Brattstrom A. In vitro binding experiments with a valerian, hops and their fixed combination extract (Ze 91019) to selected central nervous system receptors. Phytomedicine. 2004.) Other studies suggest involvement of the GABA-A receptor. There are now numerous reports demonstrating that preparations of hops have sedative-like activity in mice, frogs, pigeons, and goldfish (Butterweck et al. 2007.)
Positive statements for the use of hops for the treatment of sleep disturbances have been published by the German Commission E45 and the Scientific Committee of European Experts of the European Scientific Co-operative on Phytotherapy. Moreover, recent trials on the effects of hops in combination with valerian were compared with valerian alone, and found that the time required to fall asleep was reduced when hops was added to the valerian. Several other studies show improved efficacy in combination with valerian, as well as chamomile and passionflower. (Müller-Limmroth et al. 1977.)
This is great news for people looking for sleep aids and natural supplements to aid sleep and relaxation.
From my own experience, I found that making a dream bag of hops flowers mixed with chamomile, lavender, orange, and passionflower and putting it under my pillow really helps me fall asleep faster and sleep deeper. I believe it is the essential oils that makes this method particularly effective.
So next time you grab a beer, remember that too much may eventually lead to sleepiness thanks to the humble hops.
Related Posts: 
Wonderful Jujube Does More Than Help You Relax
Why Is Valerian Interesting Beyond Being A Sedative?
How Phosphatidylserine Improves Sleep Quality

References:
Acta Physiol Hung. 2012 Jun. The sedative effects of hops (Humulus lupulus), a component of beer, on the activity/rest rhythm.
The concentration of 2 mg of hop extract effectively decreased nocturnal activity in the circadian activity rhythm. Sedating effects of Humulus lupulus extracts. Phytomedicine. 2006.
Comparative study for assessing quality of life of patients with exogenous sleep disorders (temporary sleep onset and sleep interruption disorders) treated with a hops-valarian preparation and a benzodiazepine drug. Institut fur Psychosomatik, Wien. Wien Med Wochenschr. 1998.
The sedative effects of hops (Humulus lupulus), a component of beer, on the activity/rest rhythm. Franco L1, Sánchez C, Bravo R, Rodriguez A, Barriga C, Juánez JC. 

---

The opinions expressed in this article are of the author. Content and other information presented on the site are not meant to be medical advice or any substitute for professional advice, counseling, diagnosis, or treatment. Never delay or disregard professional medical or mental health advice from your physician or other qualified health provider.