Jujube is much more than just a relaxant and sedative.
The jujube is hands-down one of our favorite plants and highly under-rated for its plethora of other health benefits. The jujube tree is a small deciduous tree with thorny branches (said to be the source for the crown of thorns worn by Jesus) that produces a fruit somewhat similar in taste to the cross between an apple and a date. Our interest in this tree stems from its many medicinal uses as well as cultural uses, but also because of its unusual qualities of beauty, strength and resilience.
It is often remarked that the jujube practically thrives on neglect. The tree is incredibly hardy, being able to withstand very high summer temperatures and then also very cold winter chills. They will flourish in pretty much any soil, can withstand high ranges of acidity and alkalinity, droughts, and will flourish even without fertilization. From its robust nature, it will actually turn poor soil into truly useful fruit.
The berry fruit have a range of appearances, and are an odd combination of sweet and sour. Even though the composition of the fruit is 85% sugar, it actually comes off as almost sour while still being sweet. More interestingly though, as sweet as it is naturally, in dried form it can make sweet things taste much less so, and this may have something to do with its ability to lessen the toxicity of poisons.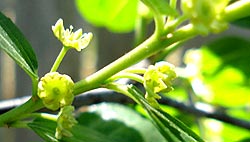 Culturally and nutritionally it is revered by many people, but especially the Chinese. It is probably due to the intensely sweet smell from the flowers and fruit that jujube is considered good for promoting love and fertility. In one Chinese legend, a travelling king meets the god of longevity and when he asks for the secret to long life, the god gives him some jujube. Where we in the west might say an apple a day keeps the doctor away, in the east, it is said three jujubes a day will do the trick.
For over 5000 years it has been cultivated and used for anti-fungal, anti-bacterial, anti-ulcer, anti-inflammatory, sedative, anti-spastic, hypo-tensive, cardio-tonic, immuno-stimulant, and wound healing properties. The fruit alone is rich with complex carbohydrates and valuable nutrients that have a remarkably broad range of benefits. It has an ORAC value close to pomegranate (20 times as much as any citrus fruit) so is an excellent anti-oxidant.
Most significant of the uses for jujube are sedative and anti-stress related. In traditional Chinese medicine, jujube is the most popular of all sleep and relaxation herbals. Scientific research seems to concur that jujube seeds have mild hypnotic, sedating and calming effects. (Jiang JG, Huang XJ, Chen J. Separation and purification of saponins from Semen Ziziphus jujuba and their sedative and hypnotic effects. J Pharm Pharmacol . 2007;59(8):1175-1180.) Experiments done on animals showed clear reductions in anxiety, slowing of responses, and mild barbiturate-induced hypnotic effects. Mice orally administered jujube flavonoids and saponins showed a significant reduction of coordinated movement ability, a reduction in hyperactivity, significantly prolonged sleeping time, and a general lowering of blood pressure. In human clinical studies, a significant tranquilizing effect of jujube was found to "measurably potentiate the concurrent administration of tranquilizing drugs."
Bearing out the traditional uses, Jujube extract turns out to be a useful, all-natural alternative to prescription sedatives as well as anxiolytics. Jujube is used as an analgesic, anti-convulsant, and anti-spastic due to its muscle-relaxing effects. Studies have demonstrated it effectiveness in reducing pain sensation and increasing pain tolerance, making it useful for arthritis, backache, headache or pain that interferes with sleep.
One of the qualities we are particularly interested in when researching herbal properties is the impact of drying and extracting on the nutritional value of the plant. Jujube is one of those wonderful species that actually concentrates potency when dried or extracted, which is why it is so popular in sleep and relaxation supplements and herbal medicinal preparations.
So next time you are at the movies and you go for that box of jujubes, just remember where the delicious candies originated (in fact, it may well have been the first fruit leather, and the first throat lozenge while we are on the subject) and how valuable the jujube is as a source of good health. When we talk about food as a healer, the jujube is the perfect example.
Related Posts: 
How Phosphatidylserine Improves Sleep Quality
What You Don't Know About Hops Could Make You Sleepy
Why Is Valerian Interesting Beyond Being A Sedative?

References:
Mill Goetz P. "Demonstration of the psychotropic effect of mother tincture of Zizyphus jujuba" Phytotherapie 2009 7:1 (31-36)
Lee SM, Park JG, Lee YH, et al. Anti-complementary activity of triterpenoides from fruits of Zizyphus jujuba. Biol Pharm Bull . 2004;27(11):1883-1886.
Singh AK, Pandey MB, Singh VP, Pandey VB. Xyloprine-C, a new cyclopeptide alkaloid from Zizyphus xylopyra . J Asian Nat Prod Res . 2008;10(8):725-728.
Peng WH, Hsieh MT, Lee YS, Lin YC, Liao J. Anxiolytic effect of seed of Ziziphus jujuba in mouse models of anxiety. J Ethnopharmacol. 2000;72(3):435-441.

---
 
The opinions expressed in this article are of the author. Content and other information presented on the site are not meant to be medical advice or any substitute for professional advice, counseling, diagnosis, or treatment. Never delay or disregard professional medical or mental health advice from your physician or other qualified health provider.