The guggul or Indian (Mukul) myrrh tree is a small thorny bush with papery bark that has been popular in Ayurvedic tradition for over 3000 years. It was believed to be so beneficial for certain ailments that in parts of India it was over-harvested to the point of being listed on the World Conservation Union's list as an endangered species. In Sanskrit, the term guggul means 'one that protects against diseases.' Amongst the most common uses for guggul is as a method for weight loss, which is an area we have spent considerable time researching.
It sounds funny. Does it really help with weight loss?
The guggul plant produces a resinous gum that is the source of its medicinal use. It contains certain compounds including guggelsterones (a steroid), muscanone, quercetin, and limonene, which together (a synergistic whole) exert a cholesterol lowering effect, as well as being anti-inflammatory and rich in anti-oxidants. Its traditional use has been for heart, liver, urinary, and sinus health, as well as for helping prevent osteoarthritis and atherosclerosis, cardiovascular disease, cancer, sterility, skin diseases, low immune function, low thyroid and low energy.
The research has really just begun in the west as we assess the clinical value of guggul, but it has gained particular notice recently as an alternative to statins and cholesterol-lowering medication, and according to the Memorial Sloan-Kettering Cancer Center, it may also help in treating hemorrhoids, urinary tract conditions, rheumatoid arthritis and other types of arthritic conditions. The science behind its effects on weight and fat stores is beginning to look promising.
The precise mechanism has not been determined, but guggul's effectiveness for promoting weight loss is likely due to its influence on the thyroid, which stimulates metabolism and other key bodily actions (source: University of Pittsburgh Medical Center.) In Ayurvedic this is called a warming botanical, and in India there is no question as to the value of guggul for the obese and those looking for weight control.
A study done on rats produced evidence that guggulsterone increased iodine uptake and metabolic activity of the thyroid gland (Tripathi YB, Malhotra OP, Tripathi SN. Thyroid Stimulating Action of Z-Guggulsterone Obtained from Commiphora mukul. Planta Med.) Further experiments suggested it was particularly effective when combined with tyrosine and certain minerals chroumium and phosphate salts.
While most weight related studies continue to focus on the thyroid and metabolic influence, our own studies at 4 Organics suggest that the effects on the liver may be of more value for losing weight. Showing efficacy as a liver restorative is important because proper liver function is crucial to optimal fat-burning in the body.
Why is liver function crucial to weight loss?
Most of us do not realize the impact of modern diets and environmentals toxins on the liver or the liver's importance to a whole range of function. It acts as a toxin filter, it aids in digestion by producing bile to help break down and absorb vitamins and minerals, and it plays a key role in regulating glucose, blood pressure, blood sugar, insulin, estrogen, testosterone, immune function and blood cholesterol production and removal. Science tells us that poor liver function is directly linked to fat accumulation around the belly, the most dangerous weight gain.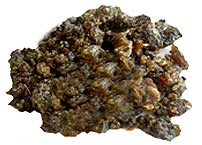 Coupled with exercise in a double-blind trial, a combination of guggul, phosphate salts, hydroxycitrate, and tyrosine has been shown to slightly improve mood and reduce weight in overweight adults. Another study in India showed that guggul increased the production of the thyroid hormone, which increases metabolism and aids in the cellular breakdown of protein, fat, and carbohydrates.
Despite the need for further testing on guggul's effects on weight loss, there is clear evidence that it has beneficial effects on liver enzyme and cellular membrane function. Remember that the liver is involved in the metabolism of all calories. Guggul may aid liver function via its anti-inflammatory mechanism which offsets the inflammatory metabolic signals coming from your white adipose tissue (stored fat) when you are gaining weight. While your liver struggles to deal with high levels of toxins, fats and sugars common in the western diet, you pay the price with not just weight gain but all sorts of concomitant health issues.
What we do know is that no weight loss program can be successful if liver function is poor.

Ultimately instead of fat break down, the liver opts for fat storage, and the result is excess weight gain. Anything you can do to improve liver function will aid in your diet and weight control efforts, so guggul can be a powerful tool in your health regimen. The best source for guggul is still supplement form, and based on the results of certain clinical trials, a weight loss supplement formula combining guggulsterone with tyrosine, methionine, and chromium is an ideal formula (Antonio J, Colker CM, Torina GC, et al. Effects of a standardized guggulsterone phosphate supplement on body composition in overweight adults: a pilot study. Curr Ther Res. 1999.)
Watch out for these issues when taking guggulsterones:
 
Guggul may cause side-effects such as loose stools, mild skin rash, and anorexia, warns the University of Michigan Health System. Don't take guggul extract if you have chronic diarrhea, ulcerative colitis or Crohns disease, or actual liver disease. Also, guggul could interact negatively with certain thyroid drugs and blood-thinners like aspirin or Coumadin. Check with your doctor before making any health regimen changes.
Related Posts:  
Easier Weight Loss - Tips for Losing Weight Without Struggling 
Fastest Ways to Lose Belly Fat
Calorie Restriction is a Gulp from the Fountain of Youth 

References:
Shishodia S, et al. The guggul for chronic diseases: ancient medicine, modern targets. Anticancer Res. (2008)
Tonkal AM, Morsy TA. An update review on Commiphora molmol and related species. J Egypt Soc Parasitol. (2008)
Tripathi YB, et al. Thyroid stimulatory action of (Z)-guggulsterone: mechanism of action. Planta Med. (1988)
The Hypolipidemic Agent Guggulsterone Regulates the Expression of Human Bile Salt Export Pump: Dominance of Transactivation over Farsenoid X Receptor-Mediated Antagonism
Stimulation of low density lipoprotein receptor activity in liver membrane of guggulsterone treated rats
Deng R. Therapeutic effects of guggul and its constituent guggulsterone: cardiovascular benefits. Cardiovasc Drug Rev. (2007)
Aggarwal BB. Nuclear factor-kappaB: the enemy within. Cancer Cell. (2004)
Nohr LA, Rasmussen LB, Straand J. Resin from the mukul myrrh tree, guggul, can it be used for treating hypercholesterolemia? A randomized, controlled study. Complement Ther Med. (2009)
Szapary PO, et al. Guggulipid for the treatment of hypercholesterolemia: a randomized controlled trial. JAMA. (2003)
JAMA. 2003 Aug 13;290(6):765-72. Guggulipid for the treatment of hypercholesterolemia: a randomized controlled trial. Szapary PO1, Wolfe ML, Bloedon LT, Cucchiara AJ, DerMarderosian AH, Cirigliano MD, Rader DJ.
Satyavati GV. Gum guggul ( Commiphora mukul ) "the success story of an ancient insight leading to a modern discovery. Indian J Med Res . 1988;87:327-335.
Singh RB, Niaz MA, Ghosh S. Hypolipidemic and antioxidant effects of Commiphora mukul as an adjunct to dietary therapy in patients with hypercholesterolemia. Cardiovasc Drugs Ther . 1994;8:659-664.
Subramaniam A, Stocker C, Sennitt MV, et al. Guggul lipid reduces insulin resistance and body weight gain in C57B1/6 lep/lep mice [abstract]. Int J Obes Relat Metab Disord . 2001;25(suppl 2):S24.

---

The opinions expressed in this article are of the author. Content and other information presented on the site are not meant to be medical advice or any substitute for professional advice, counseling, diagnosis, or treatment. Never delay or disregard professional medical or mental health advice from your physician or other qualified health provider.