ADVANCED MUSCLE RELAXATION &
 SLEEP AID SUPPLEMENT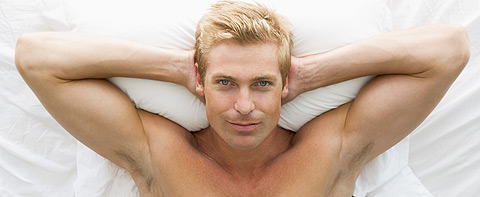 Do you ...
Find it hard to relax?
Suffer from sleeplessness?
Toss & turn all night, waking up tired?
We have a solution!
SERENE is a precision-formulated, premium-quality, natural relaxation and sleep supplement to support calming of the body and mind, and to promote a deeper, more restful sleep, without deleterious side-effects or resulting hangover like so many sleep aid products, medications and sleeping pills.
SERENE natural sleep aid helps you:


Relax and fall asleep faster!
Sleep restfully without interruption!
Wake refreshed without hangover or fogginess!
SERENE natural sleep supplement has highly concentrated extracts of the most effective relaxation and sleep-inducing organics in a carefully crafted balance, working with the body's natural rhythms and addressing the nutritional requirements for proper rest and relaxation so you can slow down, feel less stressed, and experience a deeper, more rejuvenating sleep.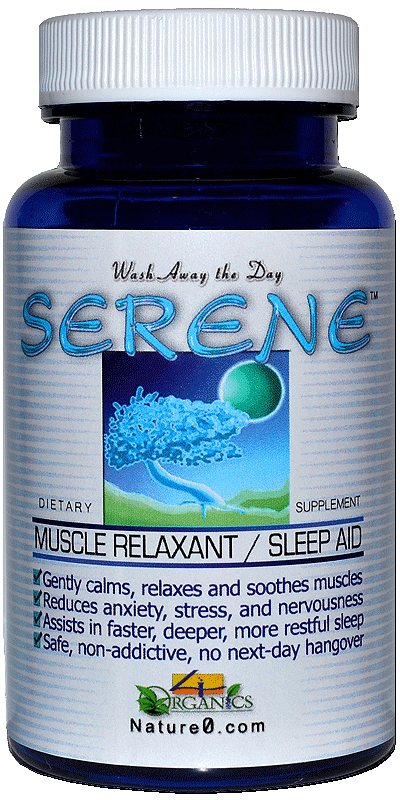 How does the SERENE Natural Sleeping Pill Supplement Work?
There is real science behind this formula. Using a combination of key extracts and compounds found both in the body and in nature that are known to promote sleep, SERENE works quickly in half dose to promote a relaxation response, helping to soothe muscles and tension, as well as helping relieve stress to the body.
In full dose it causes drowsiness and supports a restful, revitalizing sleep. 
SERENE is non-narcotic, safe, and really works! 
Clinical studies show that the ingredients in SERENE may effectively promote sleep with no need of dose escalation, no negative side-effects, and no next-day hangover or grogginess. SERENE's carefully-prepared, premium-grade ingredients, including valerian, jujube, GABA, l-tryptophan, and l-theanine, are scientifically proven to have positive effects on sleep and muscle relaxation (for complete details, view the ingredients page.)
If you experience occasional insomnia, or have trouble staying asleep, SERENE can help you get the proper sleep you need to wake refreshed with renewed vitality, vigor, and most importantly, with a clear head. Use it for occasional sleeplessness.
The Benefits of a Good Night's Sleep:
Maximized mental and physical performance

Improved mood, attitude and confidence

Enhanced immune function

Enhanced memory and focus 

Maximized health and systemic function 
SERENE, a natural sleeping supplement, is gentle enough for extended use, and can be taken without risk of ill effect, unlike risky prescription sleep drugs and sleeping pill medications.
"super supplement that does its job."

Wanted to drop a quick line to say how good SERENE is. I tried the samples first and I thought that was great that you offer them. I still wasn't expecting much though. The first night I took the pills I slept better than I have in years. I felt great the next day, no drowsiness or fogginess like other products left me. Second try worked even better. I am so glad I found it and I have just ordered several bottles and have already told some of my friends how it helped. Thanks for offering a free try and for such a super supplement that does its job.

Jackie J. - S. Ranch, CA
So if you are experiencing periodic muscle pain or discomfort, feel stressed, have occasional sleeplessness or trouble getting a good night's rest, try the advanced SERENE relaxation and sleep complex, and wash away the day.
Visit any SERENE product page and then scroll down to the information tabs for complete details.
NEXT =>
Try a Free Sample Here
(No requirements, no obligation, we ask only that you pay the small cost to ship it.)