POWERFUL NOOTROPIC CNS ENERGY STIMULANT
& MOOD ENHANCER SUPPLEMENT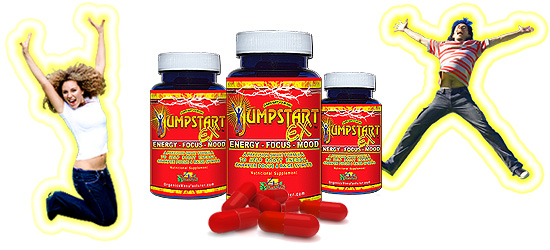 An Energy & Mood Enhancing Pill That Really Works!
JUMPSTART EX is an advanced, nootropic, CNS energy, focus, and mood stimulant clinically formulated to support peak physical and mental performance and a positive disposition to help you be at your very best. This remarkable pep supplement has ingredients to increase metabolism, help cells burn energy more efficiently, reduce appetite, enhance focus, and promote an improved mood.
It can cure fatigue and boost energy levels for hours, evenly, intelligently, and without side-effects or a subsequent crash. It's quick, convenient, and highly effective -- the absolute best natural way to get fully energized, focused, confident, and in a flow state.
This is smart nutrition at its most advanced.
JUMPSTART EX energy + mood supplement supplies:
Balanced, even energy boost over hours without any crash;
Sharpened mental focus, concentration and attention;
Enhanced stamina and performance (excellent pre-workout);
Heightened sense of motivation, well-being, and positive mood;
Increased conversion of carbohydratesinto energy;
Increased oxygen utilization for better energy production.


---

The formula helps you achieve peak function in three areas: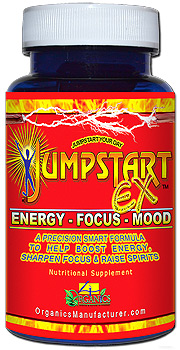 1. ENERGY and FOCUS: JUMPSTART EX contains a precise balance of key vitamins, natural-source caffeines, ginseng, rhodiola, DMAE and acetyl-l-carnitine that enhances energy production more evenly (without jitteriness,) boosts stamina, and sharpens mental energy and focus.
2. MOOD: JUMPSTART EX has ingredients that promote the production of the "feel-good" neurotransmitters in the brain like serotonin and dopamine that are responsible for feelings of happiness, well being, and mood enhancement, as well as for enhanced mental focus and concentration.
3. SUPPORT: Finally, and most importantly, JUMPSTART EX has an intelligent complex of vitamins, minerals, adaptogens, antioxidants, and bioperine that not only enhance the effects of the supplement, they also provide critical support to the body, promote homeostasis, and reduce sensitivity to physical stress so there is less wear on your system.
It's really smart!

---

JUMPSTART EX energy supplement is simply a better way to be at your best.
Advanced nutritionists are impressed by the complex right away.
It will not overwhelm your body with harmfully excessive doses of stimulants and cheap synthetic vitamins like most other pedestrian energy pills, drinks, shots and supplements, but is intelligently and precisely engineered from quality organics to give you a well balanced, controlled, even boost to body, mind and to your spirits.
It will help to get you operating at peak performance levels for hours without negative effects, jitters or nervousness, and without calories, artificial ingredients or preservatives.
We guarantee you'll love JUMPSTART EX and your body will too.
BE FULL OF VITALITY, FOCUS & POSITIVITY


Listen to just a few of our actual customers (read full reviews on our feedback page):
---
"In a world of HYPE it is great to find something that is as good as it claims. JUMPSTART EX is truly excellent. I have energy all day - a smooth energy, I don't peak then burn out. I get things done. It is a calm energy, I don't bounce off the walls and talk a hundred miles a minute. I am happy - more confidence than ever." Scott Q. - Ontario, Canada
"I read all the feedback and thought: "yeah, right!" I decided though to give a try as too many people talked about it so positive. I know it sounds cliche to write all these but honestly, truly and genuinely I have found JUMPSTART EX energy pills working wonders. I don't feel tiredness at all and I sleep through the night really well. Simply, it is a fantastic product worth every penny and anyone who is a bit hesitant, please don't be, you will be amazed how it will influence on your daily life in a very, very positive way."  Dea R. - Kettering, UK
"I am so happy I found your website! I have tried everything for my chronic fatigue and finally have found the answer to my prayers! JUMPSTART EX!!! It is fantastic! I have more energy and feel fantastic! THANK YOU! I am recommending JUMPSTART EX energy pills to all my friends! You all are a lifesaver." Lisa L. - Melbourne, FL 
---

You will notice the difference as soon as you take it -- your energy and spirits start to soar and that trademark JUMPSTART smile (now famous thanks to Cameron Diaz!) spreads over you. Yes!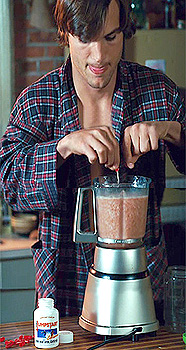 JUMPSTART EX Energy Pills Featured in 'What Happens in Vegas' 
with Ashton Kutcher and Cameron Diaz.
There is a lot of science behind this better, smarter stimulant and mood enhancement supplement. Get the full details on the formula by reading the information tabs at the bottom of any product page. We are so sure you'll love it, we offer a no obligation, no commitment free sample (we only ask that you pay just the small cost to ship them to you.) 
WHAT ARE THE ENERGY & MOOD STIMULANT INGREDIENTS?
READ CUSTOMER REVIEWS OF JUMPSTART EX ENERGY
TRY THE (NO OBLIGATION) FREE SAMPLE NOW
---
JOIN THE JUMPSTART REVOLUTION
These statements have not been evaluated by the food and drug administration. The FDA does not evaluate or test herbs. These products are not intended to diagnose, treat, cure or prevent any illness or disease. Consult with your care provider before beginning use. Use as per instructions and check warnings.